Today's weekend tutorial will teach you how to create a one-line musical drawing! My smokin hot pen is back for a tutorial with a technique that EVERYONE can create – and  you'll find it very relaxing, I hope!
This post is going live a day early – to give you a heads up in case you'd like to join me for the Premiere of this video on YouTube! We can chat about pen and ink, if you have questions this is an opportunity to get them answered right away. 
The link below is NOT playable until after the video is live, but you can click here to go RSVP and have YT remind you with a notification.
You can choose your own soundtrack of course, but since it's #blackhistorymonth and I drew Miles Davis earlier this week, I've picked Round Midnight recorded in 1955 at Newport Jazz. He played with some of the all stars of the day:  Thelonious Monk, who wrote the song, along with Connie Kay and Percy Heath, Zoot Sims, and Gerry Mulligan.
Davis was received to great acclaim — but his response was typical: "What are they talking about? I just played the way I always play." He sounds like someone I'd get along with quite well! Just do what you do, huh!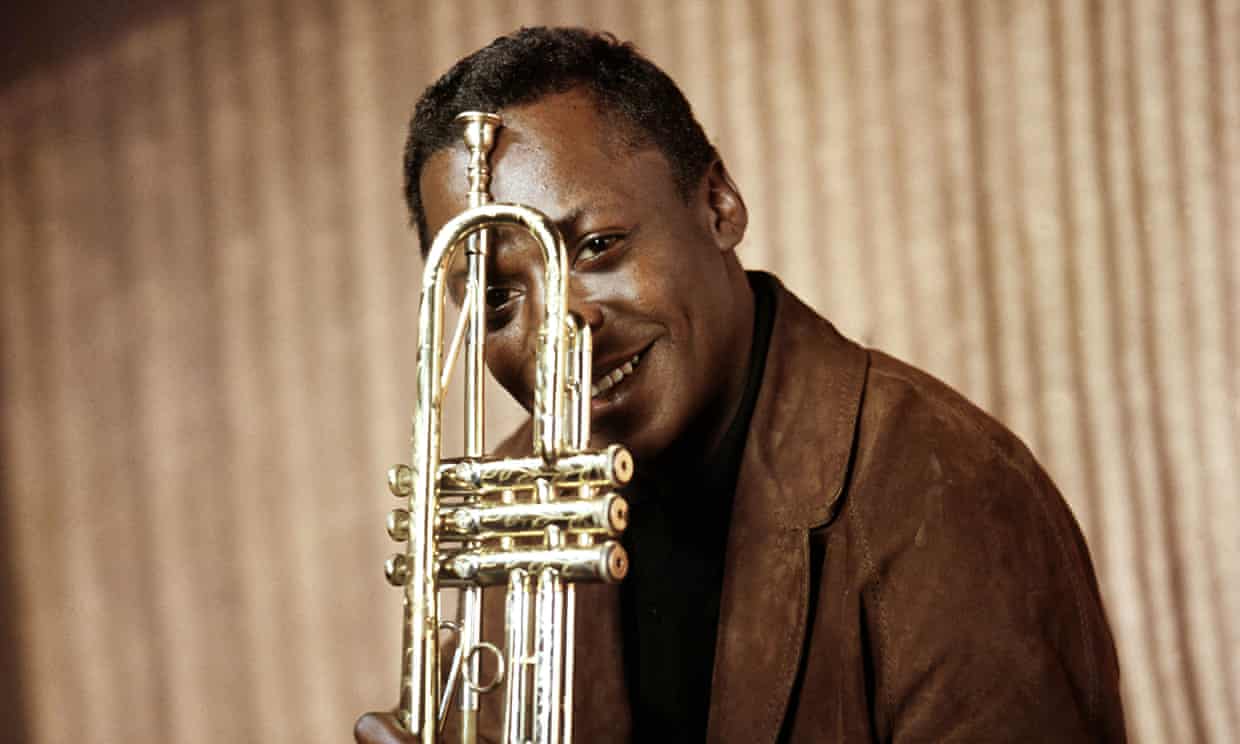 Restless genius … Miles Davis in 1955.
 Photograph: Pictorial Press Ltd/Alamy Stock Photo
Tutorial:
How to create a one-line musical drawing
Many of you have asked HOW to loosen up your doodling. This is a great way to do it!
Watch the video below and scroll to the end to leave comments or questions — or click HERE to watch it on YouTube and leave comments over there. I read both dutifully!
Tips to loosen up and listen
It may help to listen through the music once to start with; just sit back, close your eyes, and see if anything "comes" to you for a line quality or a style. A staccato piece may be more geometric, and you'll need to be prepared to move with the music; but a gentle jazz piece like the one I chose has soaring notes that lend themselves to soaring lines.
Use a pen and paper with good flow – a fountain pen with something smooth like marker paper is perfect. 
Take turns in your mind listening to the melody, an underlying bass, maybe an interesting bit of drums. Let yourself float between them.
I find that simply covering the whole page with lines can be dissatisfying as a finished work, but might be where you end up too, and that's ok! Use a sketchbook so there's less pressure either way.
The kinds of flowing lines I love to make lend themselves to traveling along a wide curved shape so that's where many of my doodles like this have gone. I'll back over to an area already drawn and add bits to it, join sections….but always moving. Keep the pen going.
Give it a try!
This is an exercise perfect for a short break from something else. Put a song on your headphones while the family watches tv, or as you sit in the doctor's waiting room or an airplane terminal. Learning to loosen up and just go with the flow without THINKING is a great way to chill!
Subscribe to receive blog posts by email: